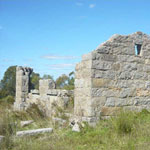 In 1873 the Victorian Ladies Sericulture Company was formed by forthright and influential Mrs Bladen Neill. Mrs Neill was part-owner of Brockelsby Station at Corowa. The aim of the company was to provide gainful employment for women. The company secured a reserve on Mount Alexander which they fenced and planted Mulberries for the feeding and breeding of Silkworms. Manager, Mrs Jessie Grover, lived in a 'pretty' granite cottage on the reserve.
The enterprise fell victim to frosts, drought and rabbits. In 1877, the reserve was abandoned.
The ruins of the cottage and the footings of the magnanerie may be seen here.