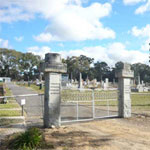 Harcourt Cemetery was gazetted in 1862. The first burial took place in 1865.
Notable memorials in the cemetery include:
Joseph Blight (quarry-master)
George Symes (quarry-master)
HR Bastow (influential Victorian Government Architect)
Colonel WE James (Victoria's senior commanding military officer of the 1930′s and 1940)
numerous pioneering settlers and orchardists.
A lawn section was opened in 1982.